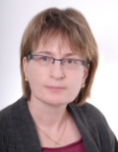 CV
| | |
| --- | --- |
| 2019 | Distinguished Professor, Department of English, University of Zagreb |
| 2013 | Professor, Department of English, University of Zagreb |
| 2011 | Chair professor of English linguistics, Department of English, University of Zagreb |
| 2003 | Associate Professor, Department of English, University of Zagreb |
| 1997 | Assistant Professor, Department of English, University of Zagreb |
| 1994 | Ph.D. in Linguistics, University of Zagreb |
| 1986 | M.A. in linguistics, University of Zagreb |
| 1983 | B.A. in English language and literature and Italian language and literature, Faculty of Humanities and Social Sciences, University of Zagreb |
Research interests
English phonetics and phonology, varieties of English, English as a lingua franca, twin speech
Other achievements:
2005-2007 Head of  Department; 1992-1993 lecturer at the University of Nottingham, U.K.; 1989-1990 Fulbright doctoral scholarship at the University of Massachusetts, Amherst, USA; winter semester 1987- visiting colleague at University College, London, U.K.
Undergraduate courses
Phonetics and phonology
Graduate courses
English across the world
Postgraduate courses
Contemporary phonological theories
Selected bibliography
· (2019) Josipović Smojver, Višnja. Contemporary Phonological Theory and Common Pronunciation Phenomena. Philologia (1451-5342)16, 77-83. http://www.philologia.org.rs/index.php/ph/issue/view/2
· (2019) Josipović Smojver, Višnja. Usvajanje izgovora stranoga jezika u ranoj školskoj dobi. In: Vrhovac, Y. i suradnice (ed.) Izazovi učenja stranoga jezika u osnovnoj školi. Zagreb: Naklada Ljevak, 167-174.
· (2017) Josipović Smojver, Višnja. Suvremene fonološke teorije. Zagreb : Ibis grafika.
· (2016) Josipović Smojver, V. and M. M. Stanojević. English as a Lingua Franca in Croatia: Attitudes and Pronunciation. In: Zovko Dinković, I. and J. Mihaljević Djigunović, eds. English Studies from Archives to Prospects: Volume 2 – Linguistics and Applied Linguistics. Cambridge Scholars Publishing, 95-113.
· (2012) Josipović Smojver, V. and M. M. Stanojević, 'Stratification of English as a Lingua Franca: Identity constructions of learners and speakers'. In: E. Waniek-Klimczak i L. Shockey (eds.), Teaching and researching English accents in native and non-native speakers. Springer: 193-207.
· (2012) Stanojević, M. M., V, Kabalin Borenić and V. Josipović Smojver, 'Combining different types of data in studying English as a Lingua Franca', Research in Language. University of Lodz: http://versita.com/ril/.
· (2011) V. Josipović Smojver and M.M. Stanojević, 'Euro-English and Croatian national identity: Are Croatian university students ready for English as a lingua franca?' Suvremena lingvistika 37 (2011), 71: 105-130.
· (2010) 'Foreign Accent and Levels of Analysis: Interference between English and Croatian'. In: Waniek-Klimczak, E., ed., Issues in Accents of English 2: Variability and Norm. Newcastle upon Tyne: Cambridge Scholars Publishing: 23-35.
· (2007)  'Razvoj u izražavanju identiteta u blizanačkome govoru' (The development of identity in the speech of twins) Lahor 3, VOl.1:37-52.
· (2003) 'Ema, Nina i Emanina: analiza slučaja blizanačkog govora' (Ema, Nina, and Emanina: a case study of twin speech) Govor XX   (2003) 1-2, eds. D.Horga and V. Mildner. Zagreb: Odjel za fonetiku Hrvatskoga filološkog društva: 169-179.
· (1999) PHONETICS AND PHONOLOGY FOR STUDENTS OF ENGLISH. Udžbenici sveučilišta u Zagrebu. Zagreb: Targa. 
· (1997) 'Non-melodic intonational morphemes in English and Croatian', SRAZ XLII/1997: 193-200.
· (1997) 'The Prosody of English  Spoken with a Croatian Accent', In: E. Waniek-Klimczak, ed. Teaching English Phonetics and Phonology II. Accents '97. Łódź: Wyndawnictwo Universytetu Łódzkiego: 85-93.
· (1996) 'Intonacijsko značenje u engleskom i hrvatskom' (Intonational meaning in English and Croatian), Suvremena lingvistika 41-42/1996: 271-284.
· (1995) 'The Intonational Systems of English and Croatian: A Bitonal Generative Compositional Approach', SRAZ XL/1995: 191-220.
· (1995) 'Intonacijski modeli i kontrastivna intonologija' (Intonational models and contrastive intonology),  Suvremena lingvistika 39: 65-77.
· (1995) 'Akcenatska prozodija i dvotonski pristup intonaciji' (Pitch-accent prosody and a bitonal approach to intonation), Suvremena lingvistika 40/1995: 51-79.
· (1994) 'English and Croatian in the Typology of Rhythmic Systems', SRAZ XXXIX/1994: 25-37.
· (1992) 'The Role of Underlying Filters in the Study of Phonological Interference'. SRAZ XXXVI-XXXVII:131-143.
· (1991) Josipović, V. and R. Huntley, 'Stress-based vs.syllable-based languages: perception of timing differences in English and Croatian'. Proceedings of the XIIth ICPhS, Aix-en-Provence, 1991: 314-317.
Link to the Croatian scientific  bibliography:  http://bib.irb.hr/lista-radova?autor=154804&lang=EN